PHYT'S organic intensive care
PHYT'S organic intensive care
The high-concentrated but very safe and gentle formulations that are made of 100% natural ingredients give you immediate results. The unique treatments have a dramatic effect with active vitamins and minerals.
These luxurious facials include an anti-aging mask for neck .
1. Oxygenating

Active ingredients such as Chlorophyll boost the skin's metabolism and adds oxygen.
This facial recharges and instantly brightens dull, tired and stressed skin. The skin is able to breathe. It is refreshed, energized and visibly stronger for an even more radiant complexion.

2. Deep hydrating

This facial treatment deeply hydrates,replenishes and nourishes the de-hydrated skin. Plant based Hyaluronic acid gives the skin radiance and has a good plumping effect. This facial is suitable for all skin types, dry, dehydrated, mature and sensitive.

3. Revitalizing eye therapy

Rescue for dark circles, puffy eyes, wrinkles, any signs of aging, eye contour and tired eyes suffering from PC overuse.
Lymph drainage eye treatment with High-concentrated active ingredients helps to invigorate and smooth the eye contour. This soothing eye therapy makes your eyes younger and brighten looking.

4. Anti-wrinkle and firming

A cinnamon-based concentrate stimulates the skin for improving the circulation and have a dramatic effect. The skin tone has returned, the wrinkles are gone.
Anti-wrinkle serum and Acasia collagen mask give firmness, smoothness and radiance to the skin.

5. Total Anti –aging care

Total anti-aging care exclusively for the mature skin over 40.
An alchemy of powerful vitamins, active elements powerfully fighting against aging.
Patented Ceveble R which contains 164 amino acids, 14 minerals and fermented wheat protein helps to produce collagen and elasticity and create youthful and glowing skin.
* This facial contains shoulder, décolleté, neck, head and foot massage.
* Prior to your facial enjoy our organic aroma foot bath and its relaxing benefits.(plus $15)
* Our exclusive blend of organic essential oils are selected according to your skin condition.
* Revitalizing eye therapy and Deep hydrating facial do not include a mask for neck.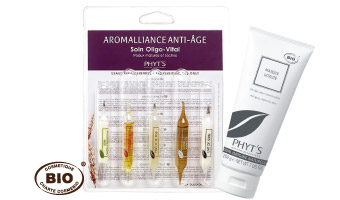 Price list
* To view member price
Treatment
Description
Basic price
Members price
PHYT'S organic intensive care
Oxygenating 60min
$245
$196
Deep hydrating 60min
$245
$196
Revitalizing eye therapy 60min
$245
$196
Anti –wrinkle and firming 60min
$245
$196
Total Anti –aging care 65min
$270
$216
* We welcome new clients by offering Members prices on first visits.