Customized Aroma Facial
Customized Aroma Facial
We offer four different types of facial treatments that give one healthy and glowing skin.
Rose quartz stone massage with our exclusive blend of organic essential oils improves the circulation in your face and adds radiance.
1. Regenerating

for dry, mature, dull skin

2. Calming

for sensitive skin, rosacea and eczema

3. Deep cleansing

for oily, acne prone and congested skin

4. Maternity

for pre and post natal and breast-feeding mothers
* Our exclusive blend of organic essential oils and facial masks are selected according to your skin type.
* Prior to your facial enjoy our organic aroma foot bath and its relaxing benefits.(plus $15)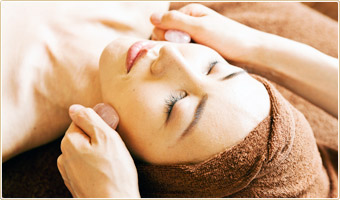 Price list
* To view member price
Treatment
Description
Basic price
Members price
Customized Aroma Facial
60min
$170
$153
* We welcome new clients by offering Members prices on first visits.
Treatment Step
Make up cleansing
Head massage
Shoulder, Decollete massage
Facial massage
Rose quartz hot stone massage
Facial mask
Foot massage
A fresh aroma awakening
* Regenerating, Calming and Maternity treatment feature the Rose Quartz Stone Massage
* Deep cleansing treatment feature three kinds of de-tox masks