Organic Herbal Acne Facial
Organic Herbal Acne Facial
This refreshing treatment is designed for getting rid of acne and eliminating acne scars by using 100% natural and organic ingredients.
Our exclusive blend of organic herbal mask and serum improves acne skin in a natural and healthy way.
Organic herbs and essential oils such as thyme ,sage ,lavender and petite grain have powerful anti-bacterial effect and work to subside and normalize acne skin.
This relaxing treatment refreshes not only your skin but also your mind and body by releasing stress.
* fresh herbal peeling and mask are made immediately prior to treatment by therapists.
* herbal peeling and mask are made from 100% organic herbs and blended specifically for lightening pigmentation.
* 90min facial includes organic aroma foot bath.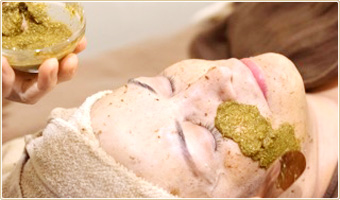 Price list
* To view member price
Treatment
Description
Basic price
Members price
Organic Herbal Acne Facial
40min
$128
-
60min
$218
$188
90min
$255
$225
* We welcome new clients by offering Members prices on first visits.