Organic Lift up and Firm Facial
Organic Lift up and Firm Facial
Plump your face up naturally without machines.
Regenerating facial massage firms and tightens sagging skin.
It boosts the skin's collagen and elastin production.
Our unique massage technique, which combines Eastern meridian acupressure with French anti-aging massage, effectively revitalizes and restores the skin in a natural way.
By stimulating the skin's natural regeneration processes, it helps to restore firm, supple and radiant skin. It also improves sagging eyelid, fine lines caused by aging.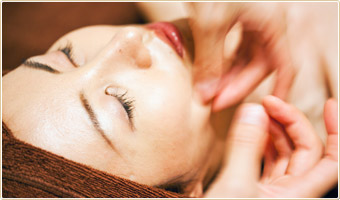 * We welcome new clients by offering Members prices on first visits.
Results
Tightening sagging and loose skin.
Rejuvenating sluggish skin.
Lifting and Firming face line.
Tightening pores.
Reducing wrinkles and fine lines.
Stimulating collagen and elastin production.
Reducing doble chin.
Improving circulation and skin metabolism.
Giving suppleness and youthful glow.
Lifting sagging eyelids.
Brightening and dull skin.
Moisturizing dehydrated skin.
Treatment Step
Aroma-dead sea foot bath
Consultation
Make up Cleansing
Herbal facial steaming
(blended for tightening skin)
Jojoba oil peeling
Lifting up serum
Carbonated toner spraying
Head massage
Meridian facial acupressure
Lifting up facial massage
Neck, shoulder and decollete
massage using aroma oil
Revitalizing seaweed mask
Meridian hand or foot massage
using aroma oil
A fresh aroma awakening