Organic Herbal Brightening Facial
Organic Herbal Brightening Facial
Refresh and clear your skin with 100% all natural ingredients.
Organic herbal peeling and mask brighten up sluggish skin
and help to lessen skin's pigmentation.
Fresh herbal peeling and mask remove dead skin to reveal the fresh and smooth skin underneath. Herbal extract penetrates into the skin and brightens it up.
Rosehip oils, Edelweiss Ext and bilberry mask which are rich in antioxidants help rejuvenate sun-damaged skin and prevent pigmentation. Soothing massage using warm Rose Quartz Crystals improves circulation and gives the skin a supple and youthful glow.
* fresh herbal peeling and mask are made immediately prior to treatment by therapists.
* herbal peeling and mask are made from 100% organic herbs and blended specifically for lightening pigmentation.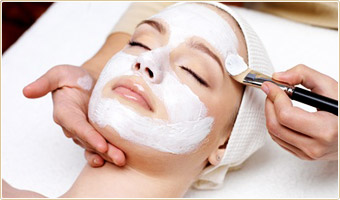 Price list
* To view member price
Treatment
Description
Basic price
Members price
Organic Herbal Brightening Facial
90min
$255
$225
* We welcome new clients by offering Members prices on first visits.
Results
Lightening freckles, dark spots and pigmentation
Replenishing dry, mature & sun damaged skin
Tightening pores
Smoothing rough skin
Brightening and rejuvenating sluggish, sallow and dull skin
Refreshing and relaxing both physically and mentally
Whitening Sun Tanned Skin
Treatment Step
Aroma-dead sea foot bath
Consultation
Make up Cleansing
Herbal facial steaming
(blended for lightening pigmentation)
Mineral clay mask
Enzyme mask
Herbal peeling
Hebal mask
Rosehip oil Edelweiss Ext
Warm Rose Quartz massage
using aroma oil
Hand or foot massage
using aroma oil
Neck, shoulder and decollete
Massage using aroma oil
Brightening bilberry mask
A fresh aroma awakening