Therapists Profiles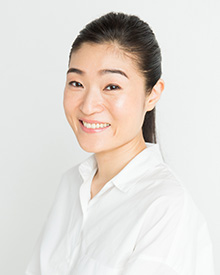 Founder of OrganicsBeautyShizuka
Certificate
CIDESCO Diploma in Beauty Specialist
CIDESCO Diploma in Aromatherapy
ITEC Diploma in holistic massage
ITEC Diploma in Aromatherapy
International Federation of Aestheticians international license
Message
My beauty journey started when I was a little girl who was fascinated with beautiful things. I admired the beauty of women both inside and out.
Now my passion for beauty has developed. I want to support others and bring out each person's own beauty.
I believe that true beauty always starts from within and this is an essential philosophy of OrganicsBeauty. I am so grateful that our team can support our clients to enhance not only their inner beauty but also their outer beauty by providing our methods which combine esthetic technique with alternative medicine such as aromatherapy and herbal therapy.
I hope OrganicsBeauty is the place where your inner beauty is unleashed allowing you to express it to the world. I believe each of us can contribute to make the world a more beautiful place in a peaceful way by letting our beauty and light shine.
I am still on my beauty journey and I want my clients to join both me and my team, expressing ourselves with joy, pleasure and love.

Shizuka is not able to accept new clients currently . Thank you for your understanding.
TherapistHana
Certificate
ITEC Diploma in holistic massage 
WSQ  Diproma in Prenatal body massage 
Hawaiian Lomilomi massage intermediate certified by Piilani kaawaloa 
Message
Life begins with the warmth and my heart has always been touched by the various human warmth. Human touch has been my main passion. Just like how a mother strokes her child, just like how a grown-up son rubs his mom's back or just like how we hug each other ... human touch is universally kind and full of love. This is the action of caring, supporting and sometimes even hearing. This is the core importance of my treatment.

Organics Beauty where no machine are used for all treatments with hand picked and carefully selected organic products, it inspired me greatly and assured me that this place will enhance the "touch" on inner and outer human beauty in depth.

I really hope Organics Beauty brings you some special warmth in your heart where you can completely be yourself and relax.